Flexible Metal Compensator Corrugated Expansion Joint
Metal compensator is a kind of flexible thin-wall transverse bellows expansion joint, which is composed of stainless steel bellows body, flange, limit rod and limit ear plate. Metal compensator, also known as metal bellows expansion joint, is a kind of prefabricated component for pipeline compensation, which is widely used in electric power engineering, petrochemical industry, heating, steel, urban construction and other industries. The function of metal compensator is to compensate the power or connection between heat pipe network and mechanical equipment. Metal compensator compensates the displacement of long pipeline system software or mechanical equipment caused by temperature difference (or molecular thermal motion) through axial expansion form or angle change, and eliminates the vibration of mechanical equipment under driving, parking or all normal operation standards. Metal compensator can effectively reduce pipeline deformation and improve the service life of pipeline system. The metal compensator can be processed into different models according to the needs.
Performance of metal compensator
The main elastic element of metal compensator is stainless steel bellows. Through the expansion and bending of bellows, the metal compensator compensates the pipeline in axial, transverse and angular directions. Metal compensator can play the following roles:
1. The metal compensator absorbs the axial, transverse and angular thermal deformation of the pipeline.
2. Metal compensator can absorb equipment vibration and reduce the influence of equipment vibration on pipeline.
3. Metal compensator can absorb the pipeline deformation caused by earthquake and land subsidence.
Technique Parameter of metal compensator
Main data of metal compensator

Available Area

of Bellows




Max Size of

External Diameter




1.0

1.6

2.5
Metal compensator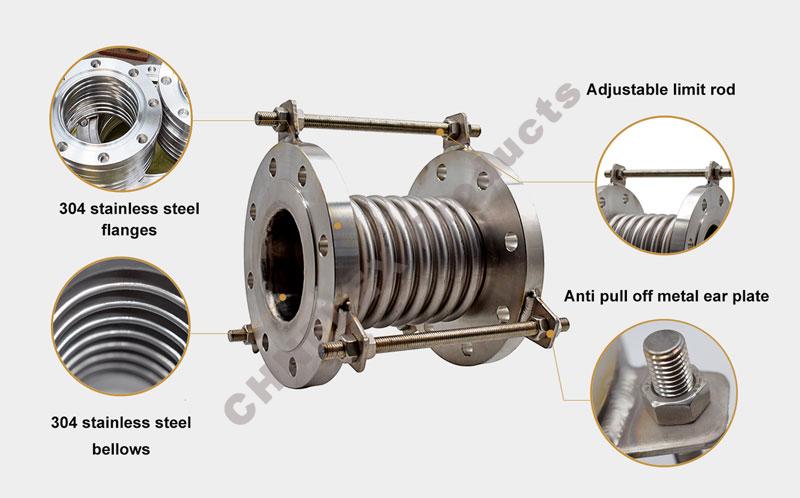 Production process of metal compensator
Do you know how is a high quality metal compensator made?Let's see with JINGNING.
Jingning has more than 17 years of design experience in the manufacturing of rubber expansion joint, metal compensator, disassembly joint, pipeline and other industrial pipe fittings. The metal compensators meet the international standards such as GB, ISO, DIN, ANSI, BS, JIS and the special requirements of customers.
Metal compensator advantages
1.Metal compensator is ex factory price.
2.17 years of manufacturing experience, 5 years of export experience.
3. The metal compensator has strict quality inspection, and the quality far exceeds the industry standard.
4. Various specifications of metal compensator mould support customization and OEM.
5. Provide free samples of metal compensator.
6. The inventory of metal compensator is large.
Metal compensator application
Because of metal compensator's flexibility, metal compensator can compensate the temperature difference deformation or other deformation between equipment and pipeline, prevent vibration, reduce the thrust of pipeline on equipment, and adapt to the uneven settlement of oil tank foundation. The metal compensator can be widely used in chemical industry, oil refining, electric power, light industry, atomic energy, metallurgy, machinery, instrument, ship, aerospace and other departments. With the wide application of power pipeline and heat pipeline in industry and civil field, the requirement of metal compensator is higher and higher.
FAQ
Q1:What's the material of metal compensator?
A1:The material of metal compensator can be EPDM,NBR,CR,SBR..It depends on the working conditions of metal compensator.
Q2:What's the working temperature of metal compensator?
A2:The working temperature of metal compensator is -20℃~100℃
Q3:Can the metal compensator be marked with customized logo?
A3:Yes,the metal compensator can be marked with your logo. We could provide OEM&ODM service for metal compensator.
Q4:Can you provide drawings of metal compensator?
A4:Yes,we could provide drawings of metal compensator for you.Please contact us to get the drawing of metal compensator.
Q5:Can we get a sample of metal compensator?
A5:Yes,we could provide samples for you to test the quality of our metal compensator.
Q6:What' the MOQ of metal compensator?
A6:1 pc. We could delivery any quantity according to your requirements.